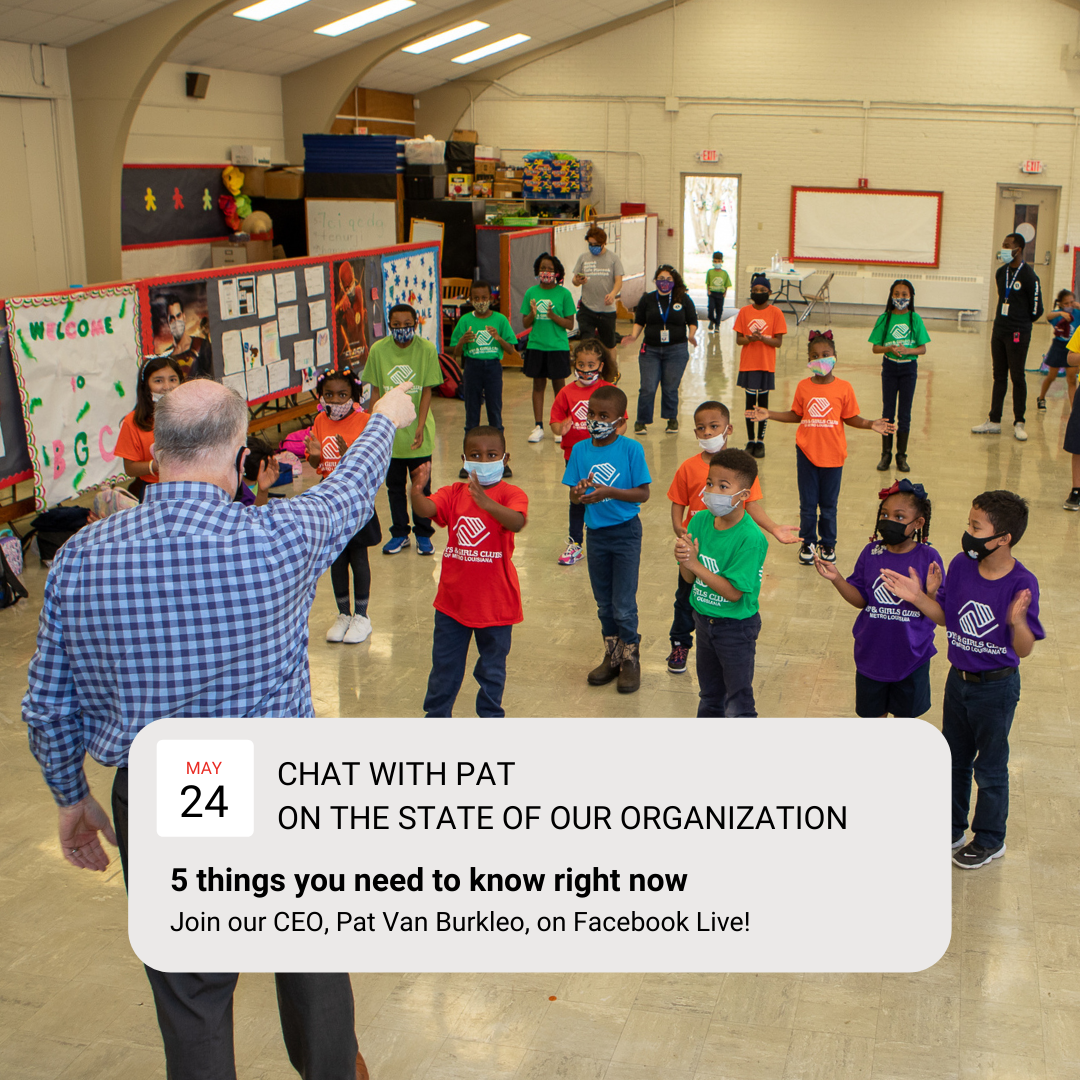 Top FIVE things happening within our organization right now! 
COVID-19, vaccinations and our Clubs. As things open up and feel a bit more "normal," we are encouraging everyone to get vaccinated. Club members and children in general have been impacted by COVID-19 in more ways than one and we are trying our best to pay close attention to our members' needs at this time. Besides some of our members actually getting sick, there has been emotional upheaval among some. Many things have changed for Club members - not being able to be around family and friends, many pulled out of school causing learning loss, some missing doctor's appointments, etc. More than ever we need Boys & Girls Clubs to be a stable place for our members to go to regularly and consistently. This summer, we are committed to making a big impact. Knowing what our kids are going though, we are training our staff in different ways to look out for mental health triggers and lean into making a positive impact when our kids need it most. 
East Baton Rouge PAC Golf Tournament - May 25, 2021. Sponsored by Humana, our EBR PAC Golf Tournament is being held this Tuesday, May 25 at Noon at University Club. 
Parade of Homes raised $26,000+ for BGC. We are so thankful to be this year's beneficiary. Thank you to the Greater Baton Rouge Home Builders Association for choosing Boys & Girls Clubs. Thank you for investing in Great Futures for youth in our community. Learn more. 
Dream Court Grand Opening at BGC at Alaska Street BREC Park. Nancy Lieberman Charities invested in Boys & Girls Clubs by refurbishing the basketball court at our Boys & Girls Club at Alaska Street BREC Park in Baton Rouge. We are going to celebrate with an official grand opening of the court on:
THURSDAY, JUNE 10 
1:30 PM
BGC AT ALASKA STREET BREC PARK 
3014 ALASKA STREET 
BATON ROUGE, LA 
DD Breaux, Nancy Liebermann and many more dignitaries will be in attendance. We invite all supporters to join us! 
We are hiring! Our staff is the backbone of our organization and we are so proud of their professionalism and commitment to Club kids. We are hiring! Starting rate is $11/hour with some major benefits (paid holidays being one). Learn more online and apply today! 
Pat Van Burkleo joins us on Facebook Live each month to give you our Top 5 things you need to know right now. Watch this month's Facebook Live here. Have a question for Pat? Share them with us in the comments below! 
MARK YOUR CALENDAR for our next State of the Organization Chat with Pat - Friday, June 25, 2021 at Noon.