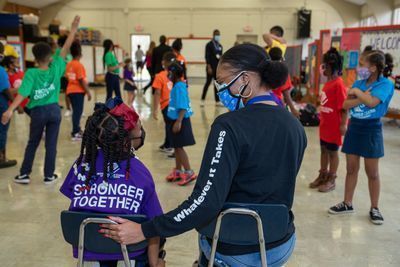 Thank you for your interest in volunteering with Boys & Girls Clubs!
Due to COVID-19 restrictions and precautions, we are currently limiting volunteer engagement in our Clubs. Please continue to check back with us for updates on available volunteer opportunities. We appreciate your consideration, and we look forward to connecting with you soon!
An investment in the Boys & Girls Clubs literally changes lives.  You can give time, donate money, and even help us spread the word— whatever works. It all makes a difference.
For more information about volunteering, contact Seresa Corbin at Seresa@bgcmetrolouisiana.org or 225.383.3928
Why Volunteer at the Club
If you are a Volunteer:
• Volunteers almost always benefit more than those they serve
• Volunteering time makes you feel like you have more time
• Volunteering your skills helps you develop new skills
• Volunteering for activities helps you have a healthier body
• Volunteering makes you feel more love

If you are a Club member:
• Volunteers often don't know their real impact on youth.
• Volunteers support staff and improve overall program impact.
• Volunteers share their personal history which gives youth greater insight into their own possibility.
• Volunteers increase the activity level of youth and likelihood of participation in healthy options.
• Volunteers show youth they matter to the community and that people care.